Beige room ideas are sometimes avoided for fear of being bland, but these schemes prove that doesn't have to be the case. While grey has long been the go-to neutral shade for decorating, in recent years beige along with taupe, stone and clay tones have become increasingly popular with people looking to bring the warm, soothing hues of nature into their homes.
The beauty of beige is that it is a versatile, neutral color so it can be used for any room and, depending on the tone you use and what colors you pair it with, it can work seamlessly with all sorts of interior looks. 
If you're thinking of decorating with beige then you're i the right place, as we've rounded up an array of beige room ideas to help get you inspired along with tips from the experts on using the shade. 
Beige room ideas
Beige room ideas are extremely versatile. If you're looking for a calming backdrop to modern life, an all-beige scheme of subtle tonal variations and plenty of texture is guaranteed to provide a soothing escape. 
Alternatively, for those more confident with color, beige can be a great base for layering striking furniture, pattern and artwork. Below we've shared an array of neutral room ideas to prove just how beautiful beige can be.
1. Use beige to create a soothing living space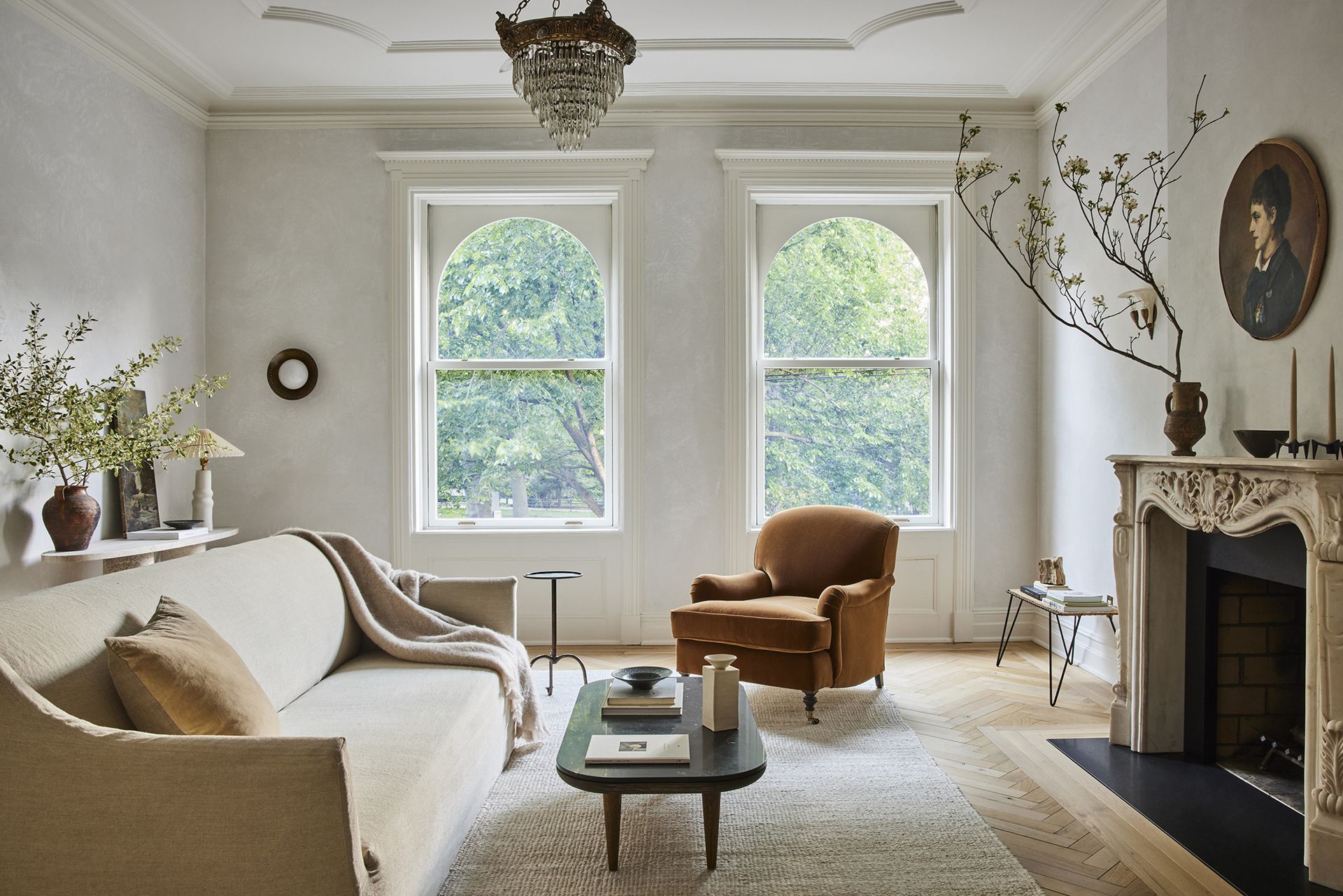 With its warm undertones, beige makes a particularly good color for spaces designed for relaxation such as bedrooms and living rooms, helping create a comforting space to retreat to at the end of a long day.
In this neutral living room by And Studio, the rustic diamond plaster walls, chunky woven rug and oak herringbone parquet wood floor all bring layers of texture, while the curvaceous tan velvet armchair adds a warming dose of color. The neutral palette is also a lovely base for showcasing architectural details including the carved fireplace and restored ceiling moulding. 
'This historic home had many original features that provided warmth and character. When choosing what colors to use in the space, I knew I wanted to keep everything quite neutral but with subtle hints of color in specific areas. It was important for the home to feel like a respite from the city, therefore using warm neutrals was the best way to achieve this,' says interior designer Arianna De Gasperis of And Studio.
2. Layer different textures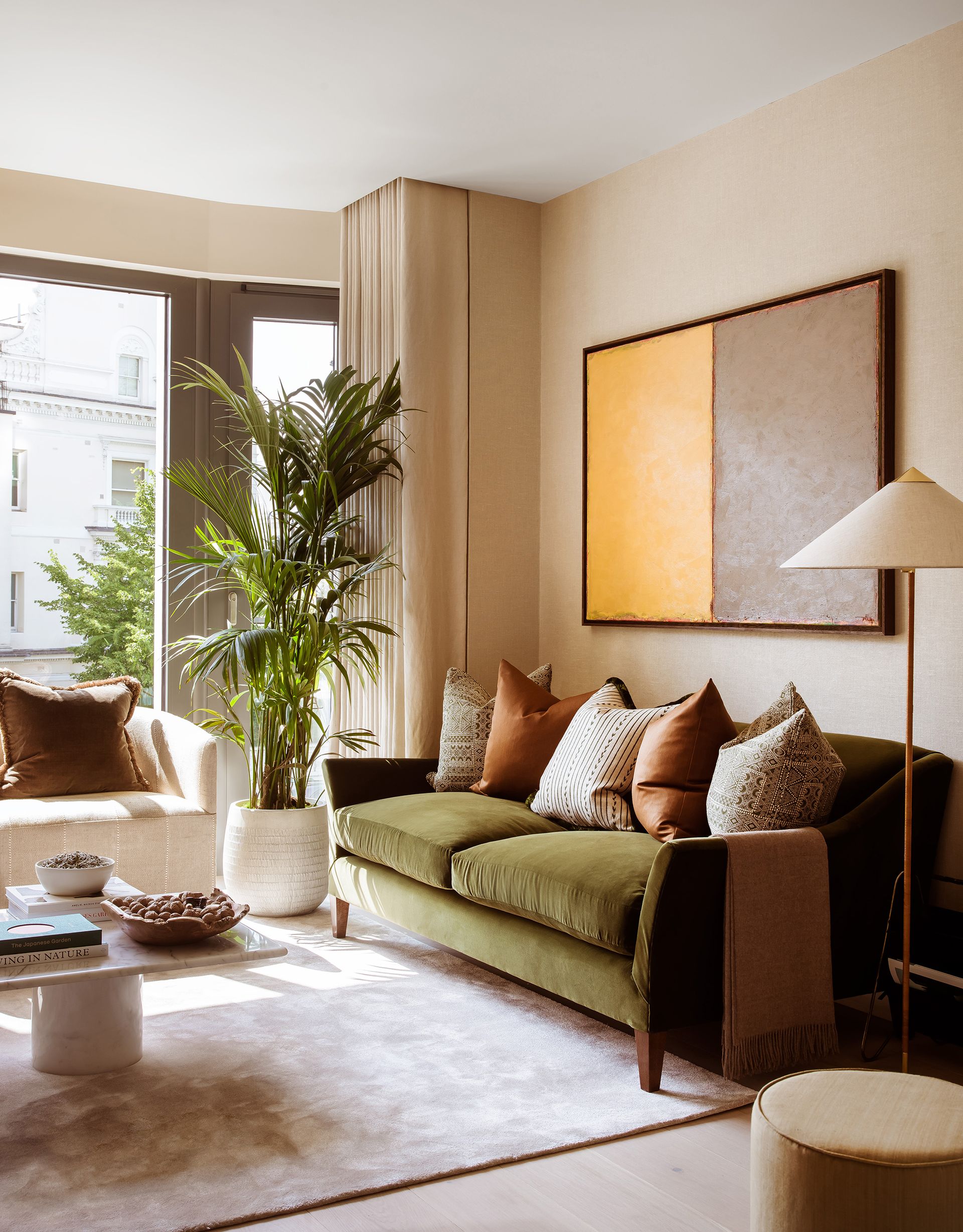 When decorating with neutrals like beige, the key is to factor in plenty of texture to ensure the scheme has depth and interest advises Camilla Clarke, creative director at Albion Nord (opens in new tab).
'Bringing in a variety of different materials helps to create interest and diversity in a space without the need for bold colors.  Linen wallcoverings are amazing at making a room feel instantly more textural. Avoid elaborate patterns and prints, and use textured natural materials such as wools, linens, silks to help create warmth and texture. We have also seen a growing interest in boucle wool.'
3. Choose beige for a calm, sophisticated kitchen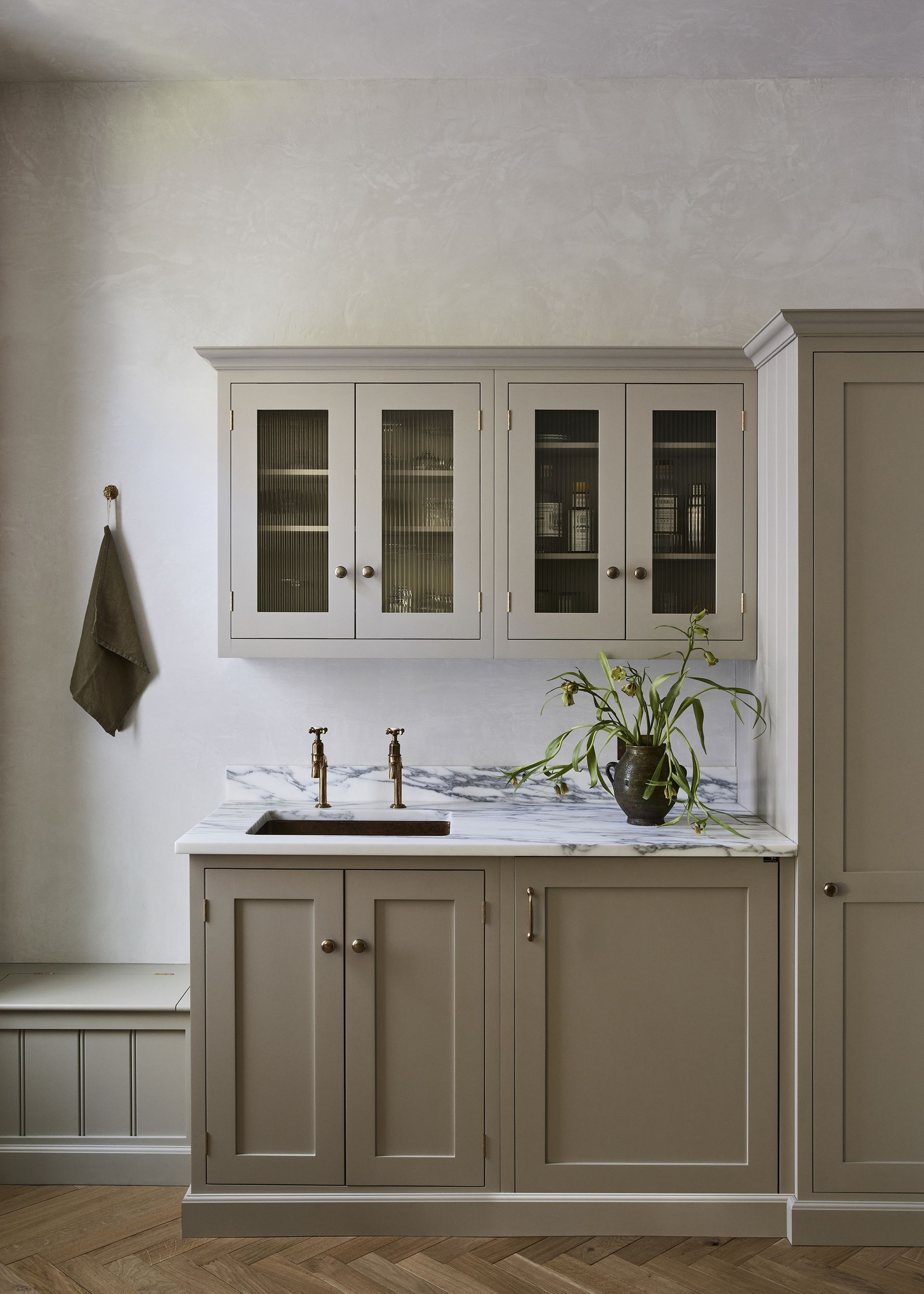 For a long time grey kitchen ideas ruled supreme, but now warmer beige and greige tones are starting to become more popular as people seek to connect with nature be decorating in earthy color palettes. 
Warm, and neutral these tones are perfect for everyday spaces like kitchens, providing a calm backdrop for our busy lives.
For this neutral kitchen, interior designer Arianna de Gasperis from And Studio chose classic shaker cabinets by Devol (opens in new tab) painted Mushroom, which was chosen to compliment cabinets in olive tones in another part of the room, and added essential texture by pairing them with a veined marble countertop, wood flooring and reeded glass.
4. Pair beige with black for a chic contemporary look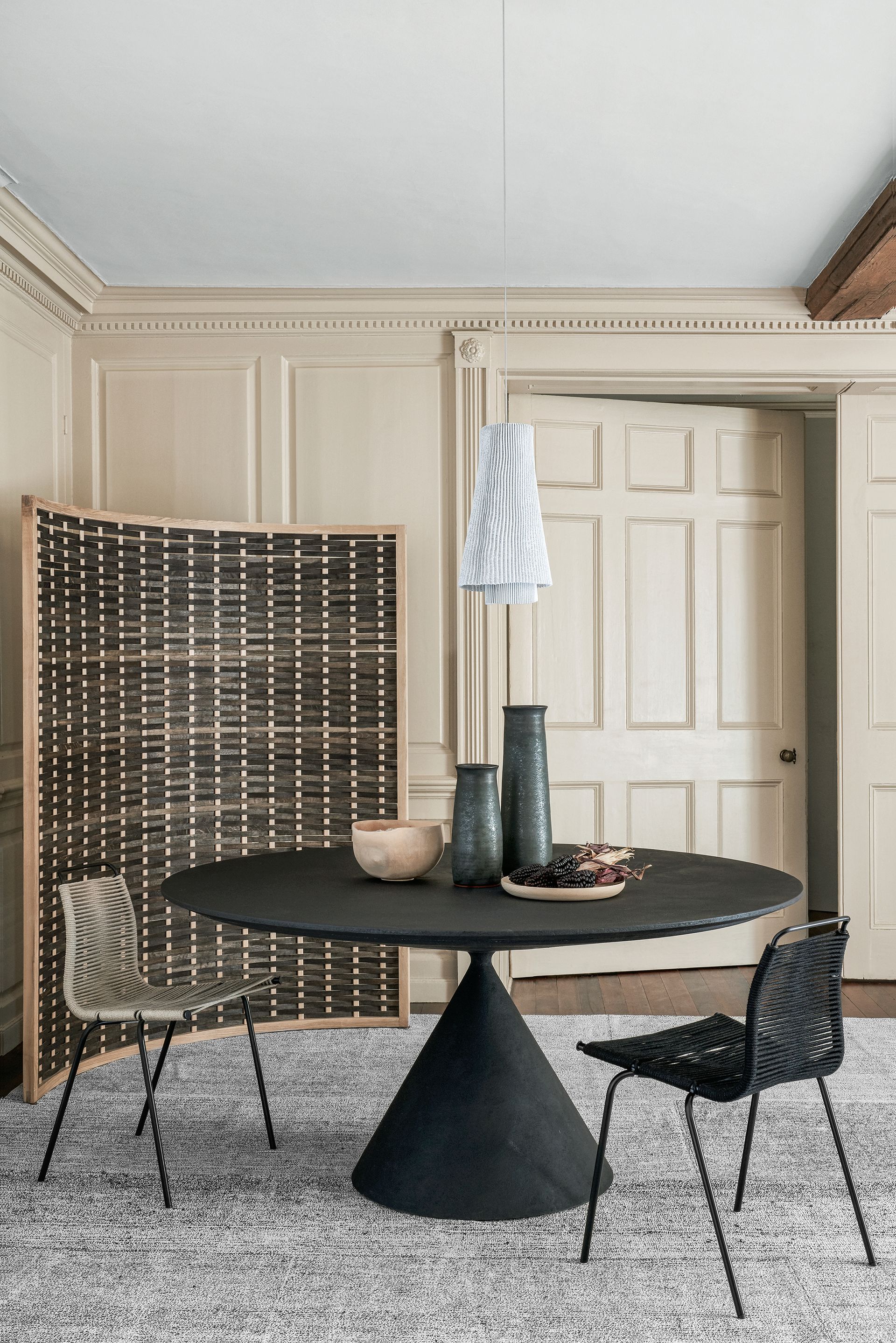 Decorating with black and white is a fail-safe way of creating a chic, contemporary look, however, the two-tone pairing can be stark and cold. Switching up the white for beige will keep the room feeling contemporary, but will bring essential warmth to the scheme.
In this contemporary dining room panelling in Archive estate eggshell from Farrow & Ball makes the perfect neutral backdrop for showcasing a striking black table by Desalto with lava finish while the Bayleaf ebonised woven screen from Sebastian Cox brings essential texture.
5. Use beige to build a cozy bedroom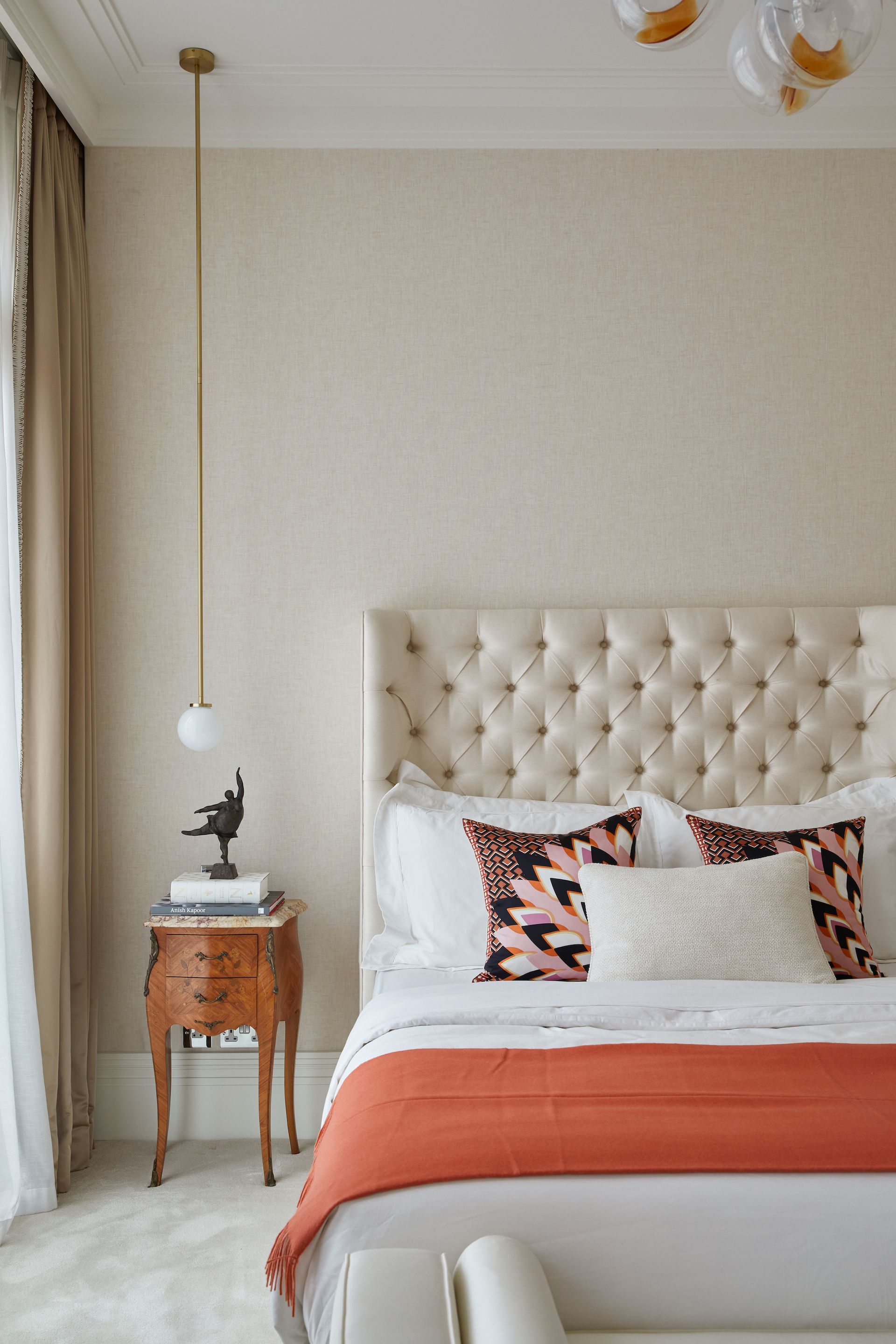 If you're looking for bedroom color ideas then you can't go wrong with beige. Calming and cocooning, beige is perfect for a spaces to unwind, plus it can help large bedrooms with tall ceilings feel more intimate.
In this beige bedroom idea, the buttoned upholstered headboard which is slightly curved inwards helps add to the cozy, cocooning feel but also punctuates the space with texture. Adding in throws and cushions in accent colors like orange, and terracotta is an easy way to warm up the look.
6. Choose a versatile beige sofa for a living room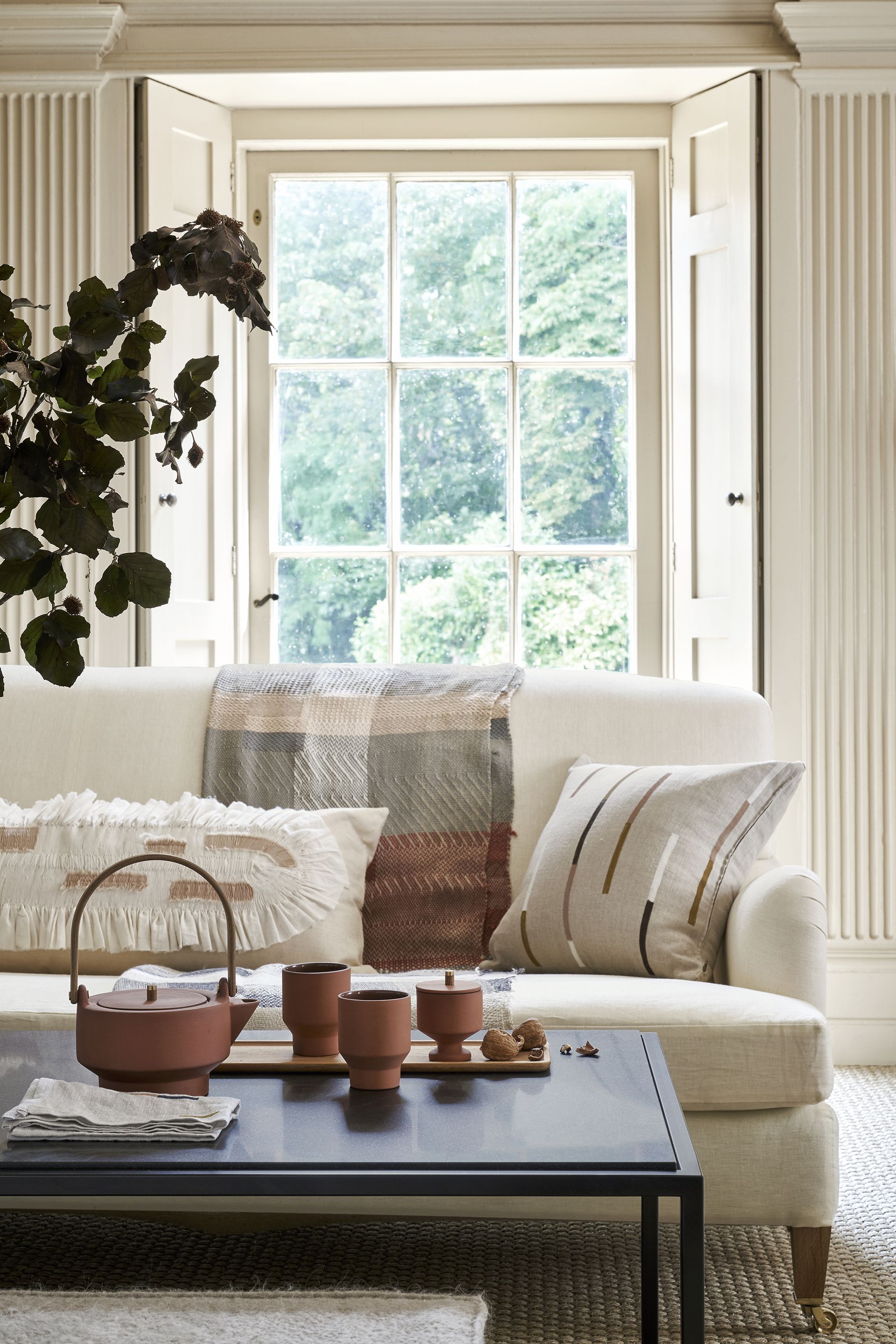 A beige sofa is a versatile and enduring choice as it can easily be updated with new cushions and throws in different accent color trends from season to season, or as and when tastes evolve. 
When choosing fabric for a beige couch living room idea consider choosing something with texture like a linen or velvet as this will help bring coziness and interest to a neutral scheme.
7. Choose beige as a backdrop for color and print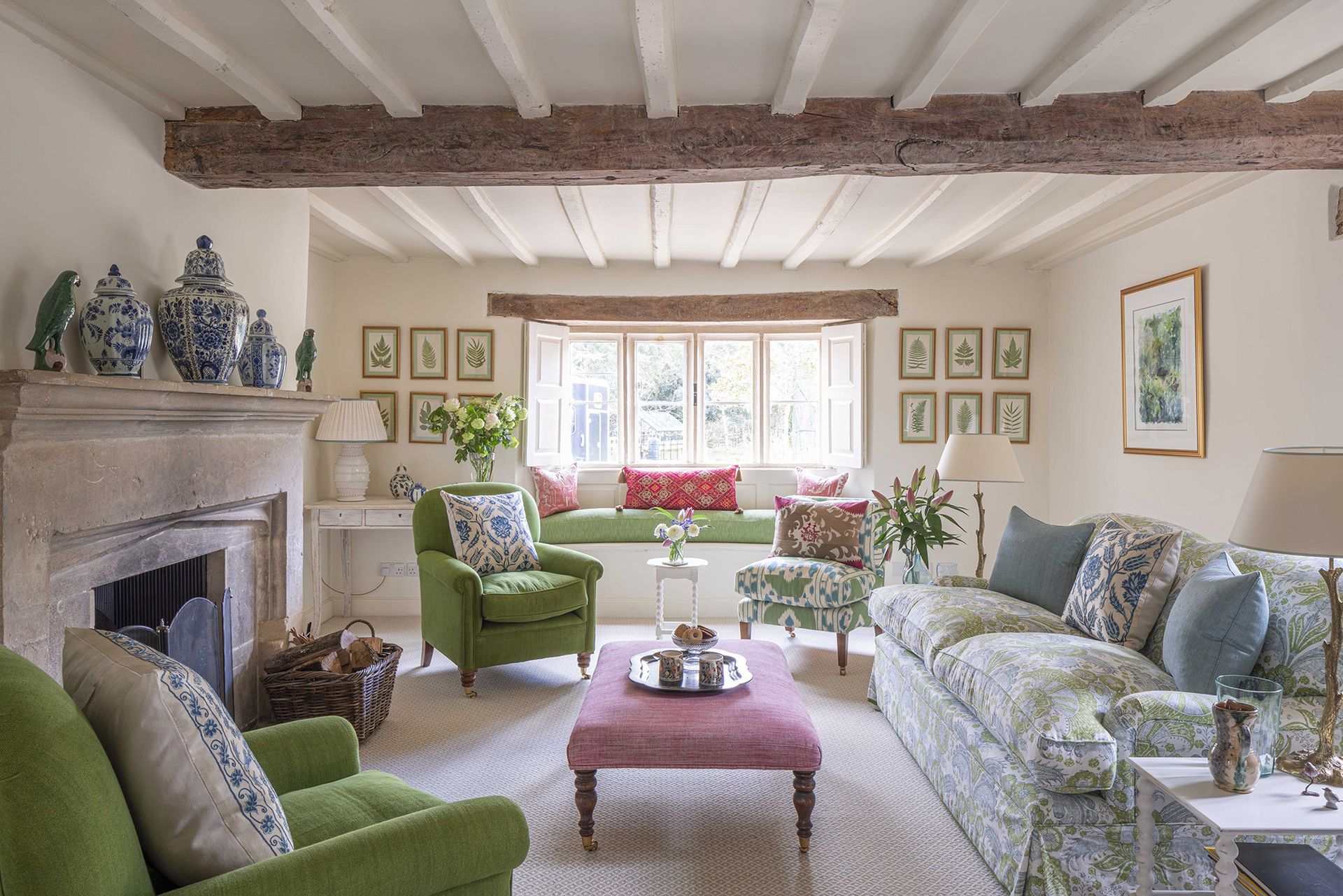 In this space designed by Susan Deliss the neutral walls and living room flooring idea are a the ideal canvas for decorating with antiques, patterned fabrics and colorful living room seating. Not only does the wall color keep the space light and bright, it respects the beautiful period features such as the 
8. Choose beige for a warm and welcoming hallway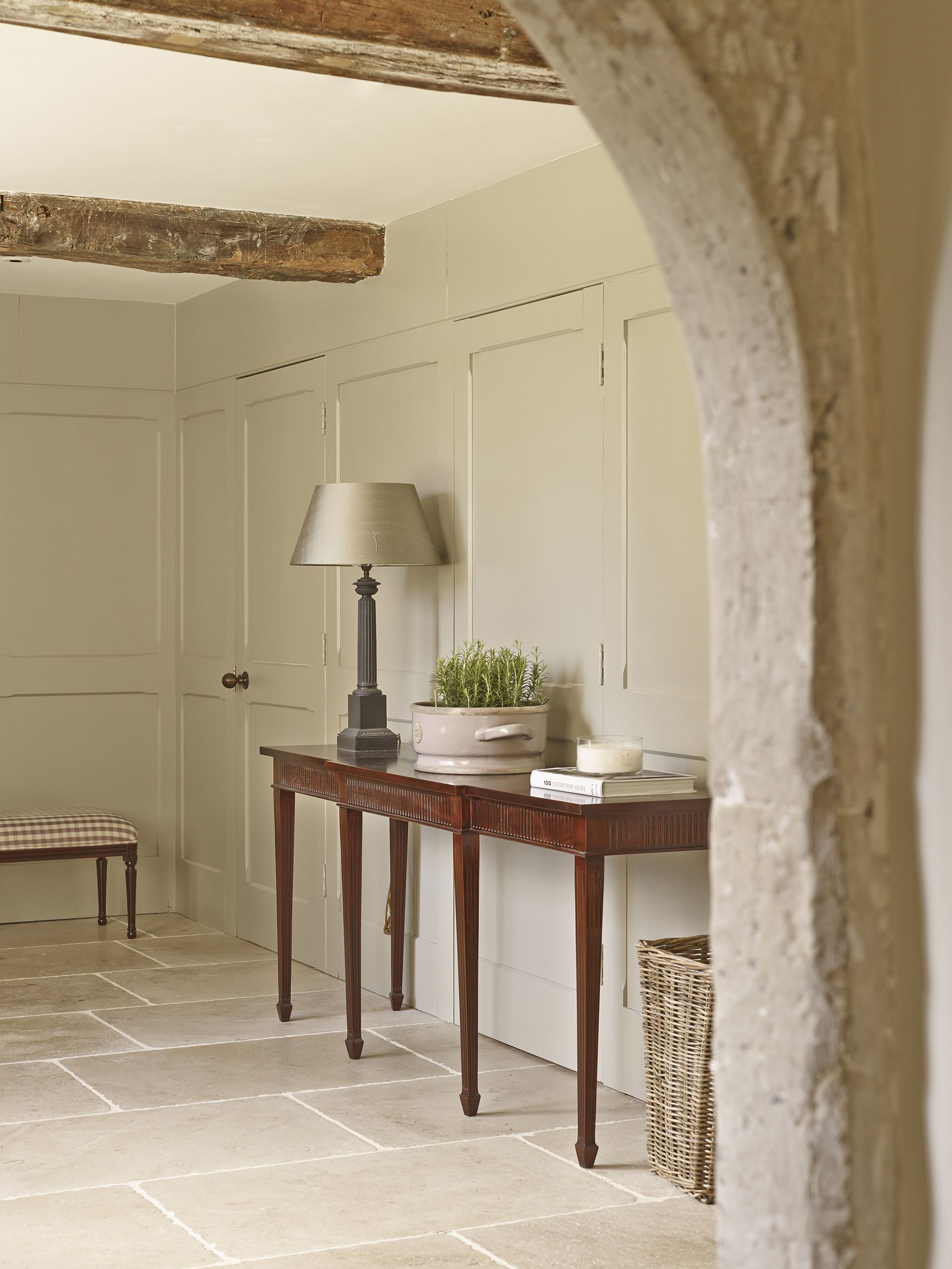 Warm neutral tones are perfect hallway paint ideas as they will help create a comforting and uplifting environment to welcome guests. If you're lucky enough to have a hallway with beautiful original features like this space with its limestone floor and wood beams, then choosing a neutral wall color will ensure not to distract from their rustic appeal. 
To brighten and soften a beige hallway you could add a colorful hallway runner or style an entryway table with a vibrant floral arrangement.  
9. Use beige paneling as a backdrop for an elegant bathroom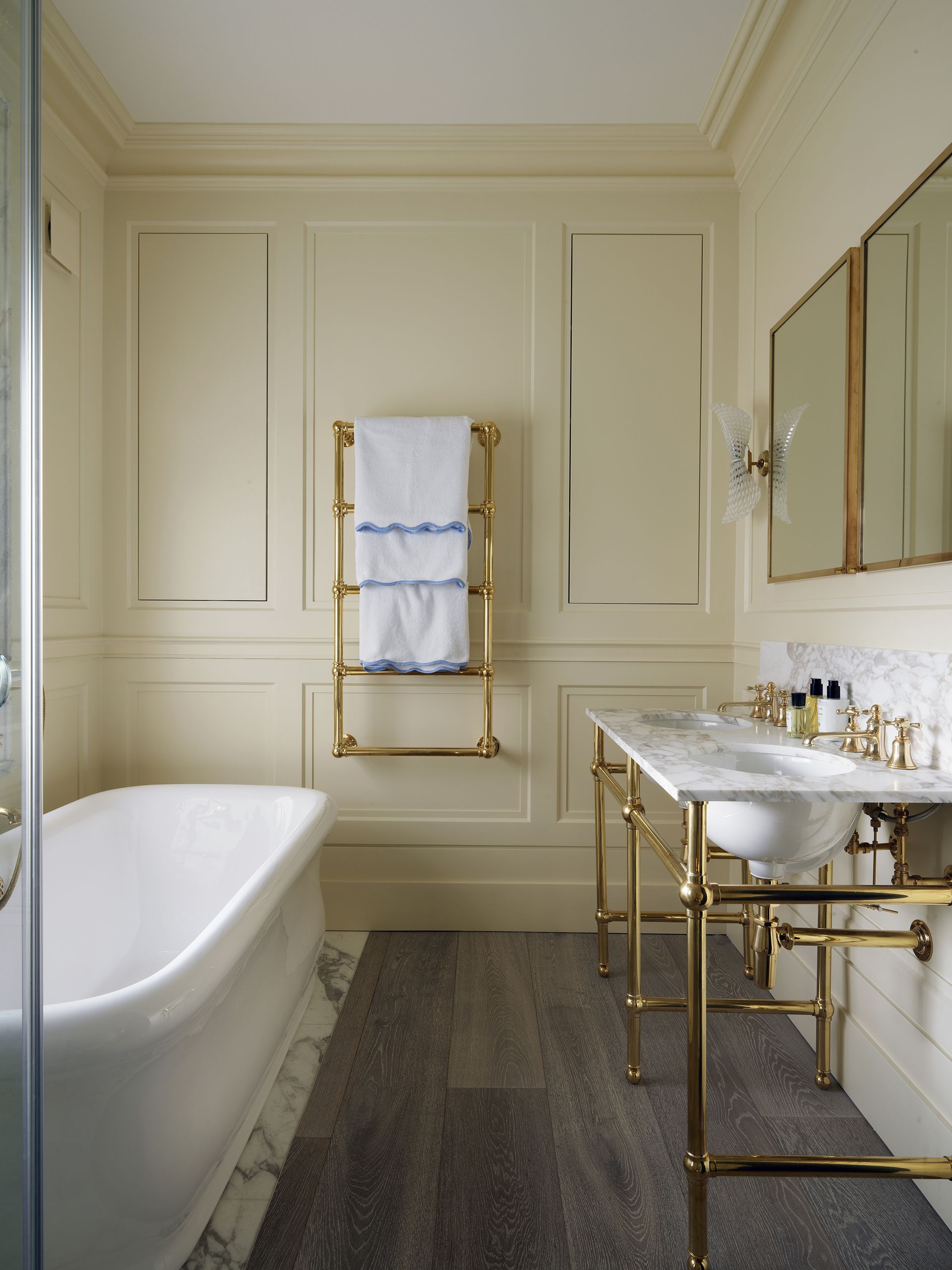 For this traditional bathroom the interior design firm Salvesen Graham (opens in new tab) chose to focus attention on the architectural paneling by opting for a neutral wall color. 
Veined marble, natural wood and polished brass surfaces have been introduced to bring additional glamour and texture. When painting bathroom paneling be sure to use a durable and wipeable paint finish specifically formulated for woodwork. 
10. Dial down color to let nature take the lead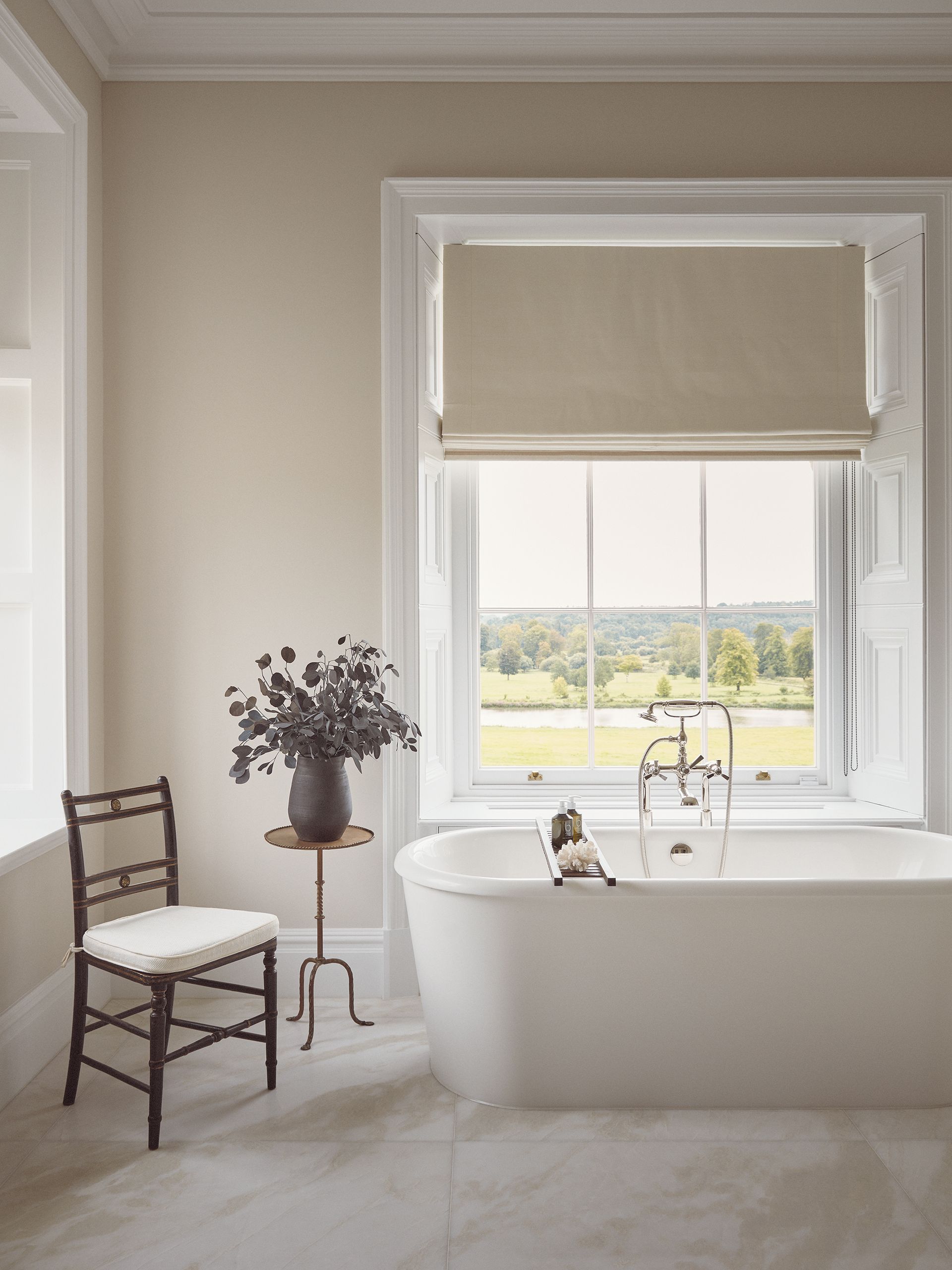 Walls in Slate II by Paint & Paper Library teamed with crisp white woodwork provided the perfect quiet palette for framing the stunning far-reaching views in this country bathroom by Albion Nord.
A Colette bath from Waterworks is placed centre stage to make the most of the rural location and creates a spa-like feel, while the floor tiles bring gentle texture.
'I love a versatile neutral that offers a warm, light and inviting tone which contrasts beautifully with crisp white ceilings and woodwork,' says Ottalie Stride, creative director at Albion Nord.
How do you make a beige room interesting?
There are many ways to add interest to a beige room, from old accent colors to the use of textural natural materials.
'A neutral needs to be paired with other materials to sing: timber and marble work well. I also love teaming them with suede and woollen rugs. Ceramic, clay and colored glass are great for decorative elements,' says Charu Ghandi, founder and director, Elicyon (opens in new tab).
Which colors go well with beige?
The beauty of beige is that it can be paired with almost any other color to create all sorts of exciting looks.
'For a tranquil, low-key look keep to pale hues – like soft sandstone with chalky off-white. For something more challenging, try with burnt orange and mustard. Darkest olive, bitter chocolate or black will add stronger touches. For a sophisticated, industrial feel, try with washed tones of cream, grey and brown,' says Judy Smith, color consultant at Crown.