Black bedroom furniture ideas are a bold choice. A striking, powerful shade, black can really transform interiors and make a big impact.
While it may be a strong choice, the beauty of black is that it can be teamed with nearly any other color and can integrate with all sorts of interior design looks, making it a brilliantly versatile option when it comes to bedroom furniture. 
Whether you're looking for a bed, closet or storage for your black bedroom ideas, or are thinking of teaming black furniture with different bedroom color ideas, these black bedroom furniture ideas are guaranteed to get you inspired.
Black bedroom furniture ideas 
Black bedroom furniture ideas are an important choice to make. Buying bedroom furniture is a big investment and one of the key decisions when designing a bedroom, so it's important to get it right and to consider longevity.
While decorating with black can be seen as daunting by some, it's actually a very versatile hue as it is essentially a neutral that can work well with any color, which makes it a practical and stylish choice for bedroom furniture. 
If you're planning on neutral bedroom ideas or with white, off-white, grey or beige walls, then black bedroom furniture can be a great way to bring structure and create focal points throughout the room, plus can work equally well incorporated into a more colorful scheme for a bolder look. Alternatively it can bring a chic and contemporary edge to a calming pastel scheme.
'Black brings drama, interest and depth – it elevates neutrals and pale colors,' says create of chalk paint and color expert Annie Sloan (opens in new tab).
1. Choose black furniture with white walls for a luxurious scheme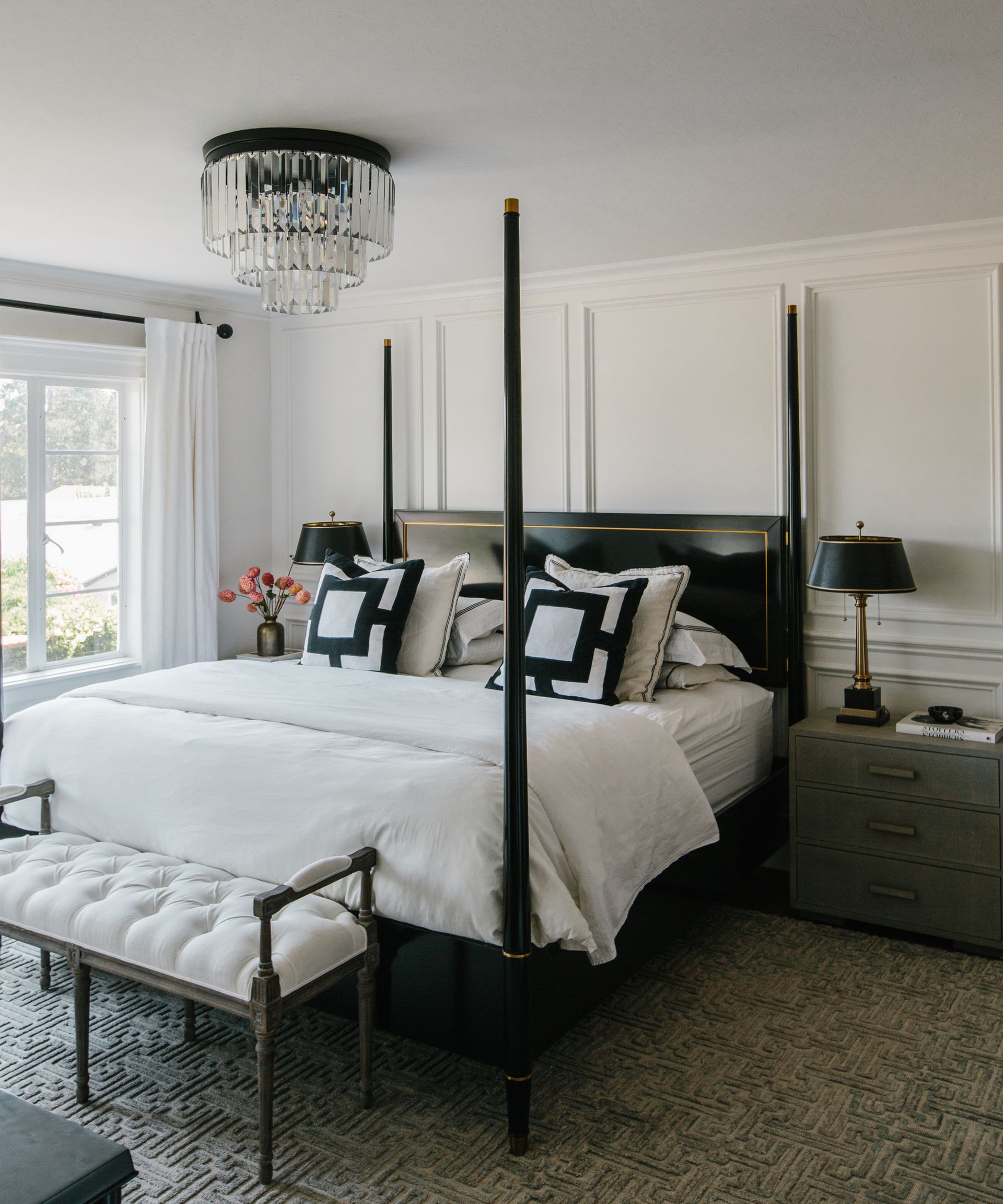 Decorating with black and white is a brilliant way to achieve a smart and sophisticated look, especially when used in their pure forms as part of a high contrast scheme.
'This client wanted their bedroom to feel like some of the high end European hotels they've stayed in and all of their inspiration images were high contrast, mostly black and white rooms,' explains interior designer Corine Maggio (opens in new tab) of this black and white bedroom idea. 
'Their bedroom is relatively small but I wanted it to feel grand which was why I selected a four poster bed. It's doesn't take up any additional floor space than a regular bed but demands attention by the vertical volume. 
'Black was an easy decision because we knew we wanted white walls and high contrast. To draw further attention to the bed, white bedding was the obvious choice. Plus, it supported the hospitality feel we were working towards.'
2. Pair black furniture with beige for a cozy yet chic look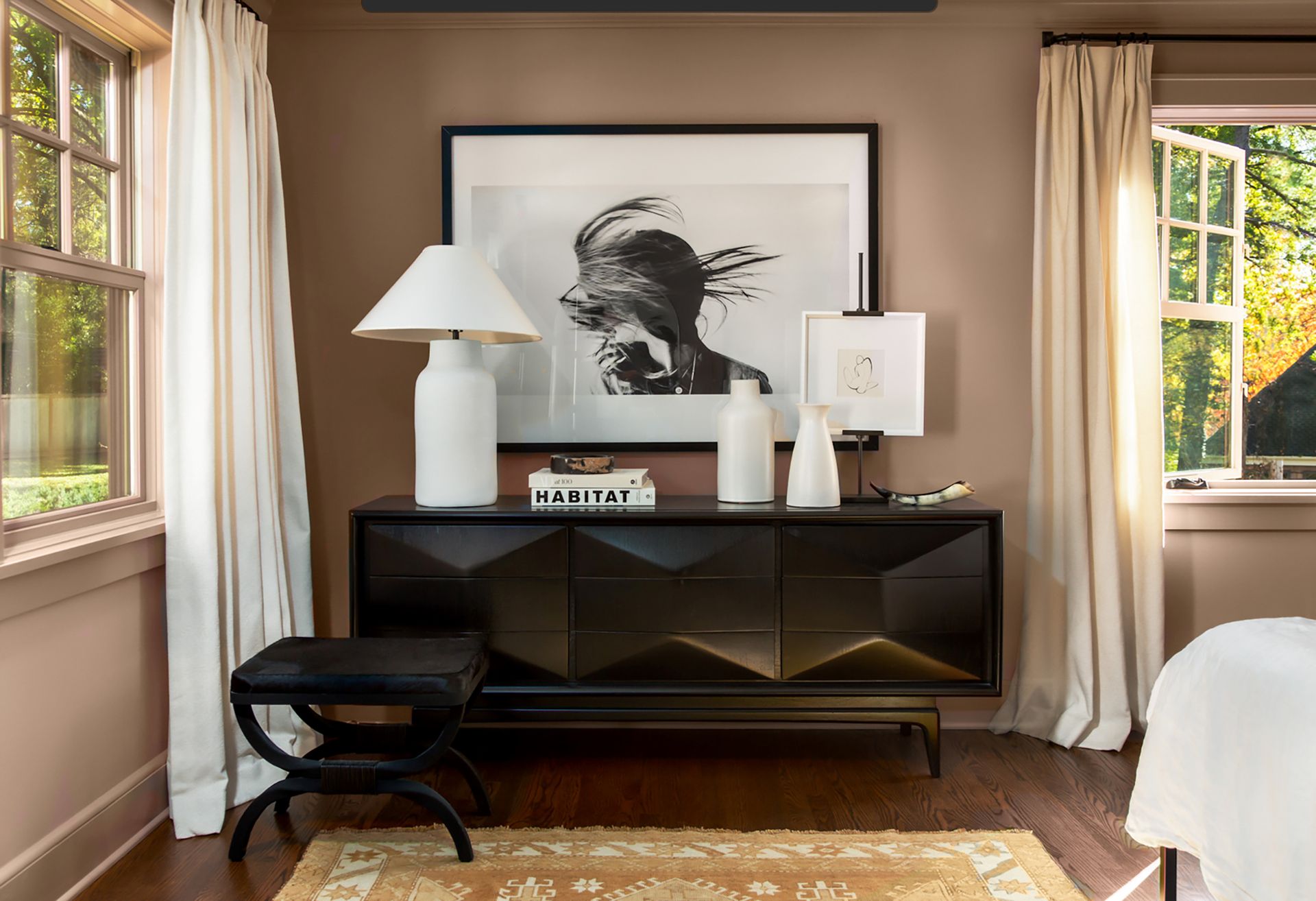 Decorating with neutrals like taupe is a wonderful way to bring coziness and warmth to a bedroom. While taupe and beige are often associated with country bedroom ideas, when paired with black bedroom furniture the shades can look brilliant in modern bedroom ideas.
'We used this restored vintage credenza in a black finish (from Chairish) to ground the otherwise serene, taupe primary suite,' say the team at Kobel + Co of this stylish space. 
3. Choose a statement black bed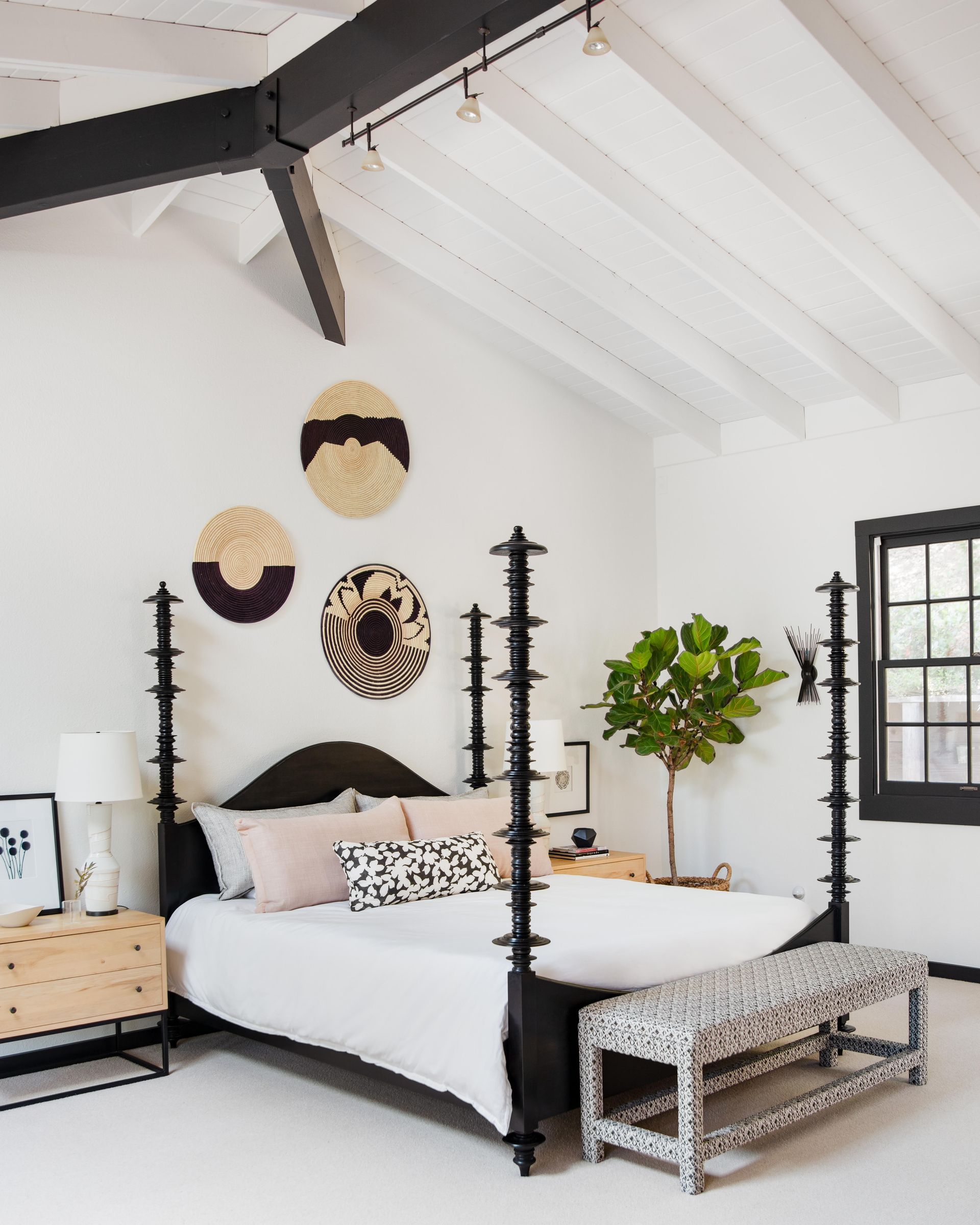 If you're looking for ways to liven up a white bedroom then a sculptural black bed is a great way to create an eye-catching focal point while keeping the space neutral. 
'We painted the walls bright white and the trim a jet black for a fresh look with great contrast. We made a statement with the bed and solidified the black and white theme with the Aztec baskets hung above the bed,' says Heather K. Bernstein, owner and master interior designer at Heather K. Bernstein Interior Design (opens in new tab) of this scheme.
4. Bring definition to a grey bedroom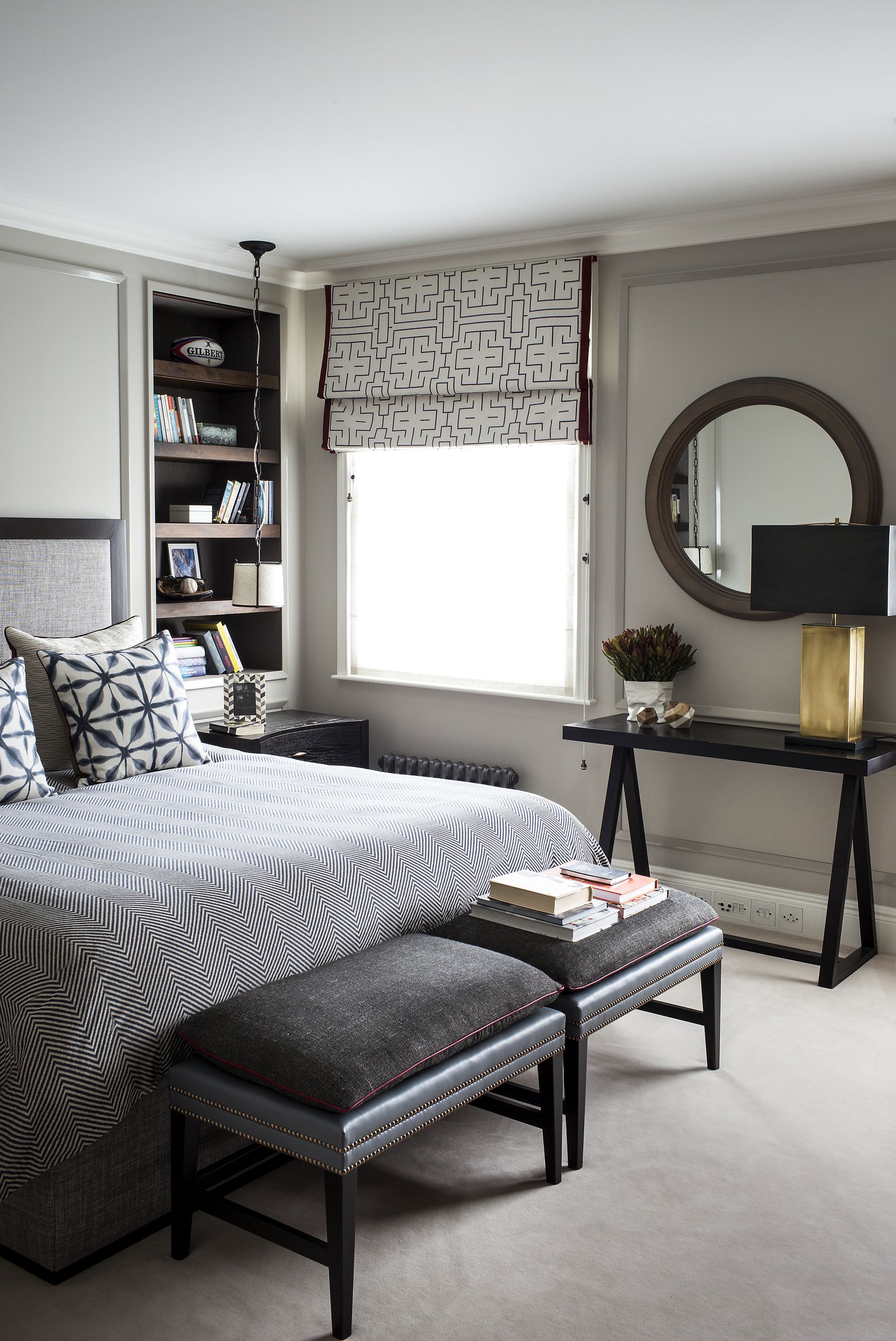 Grey bedroom ideas can run the risk of feeling flat and lifeless if they're decorated in the same shade of grey. Adding in black furniture is an easy way to ground the scheme and create tonal interest while keeping to a monochrome look. 
Here a headboard with a black frame and a black side table are teamed with dark wood shelving, charcoal stools and a charcoal bedroom mirror to create a multi-layered grey scheme.
5. Choose black bedroom storage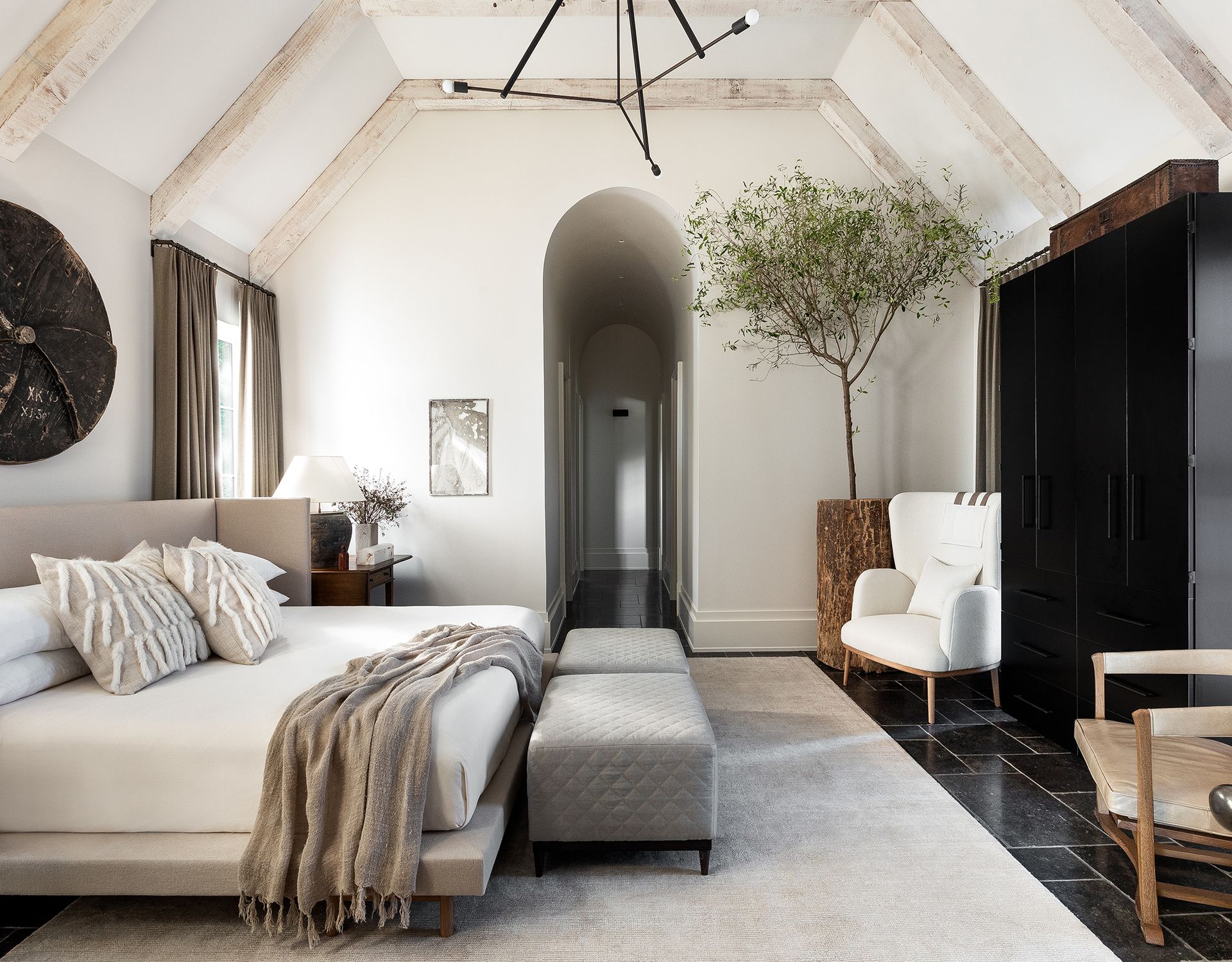 Bedroom storage ideas including closets are a key part of any bedroom design as they are usually the largest piece of furniture you will need to purchase. With this in mind it can be useful to opt for a design in a neutral color like black which will easily integrate with new wall or floor color should the room need to evolve and be redecorated.
In this simple bedroom design Sean Anderson (opens in new tab), the black closet brings depth to the neutral scheme and is balanced with a large piece of wall art and a sculptural black ceiling light.
6. Pair simple black furniture with colorful accents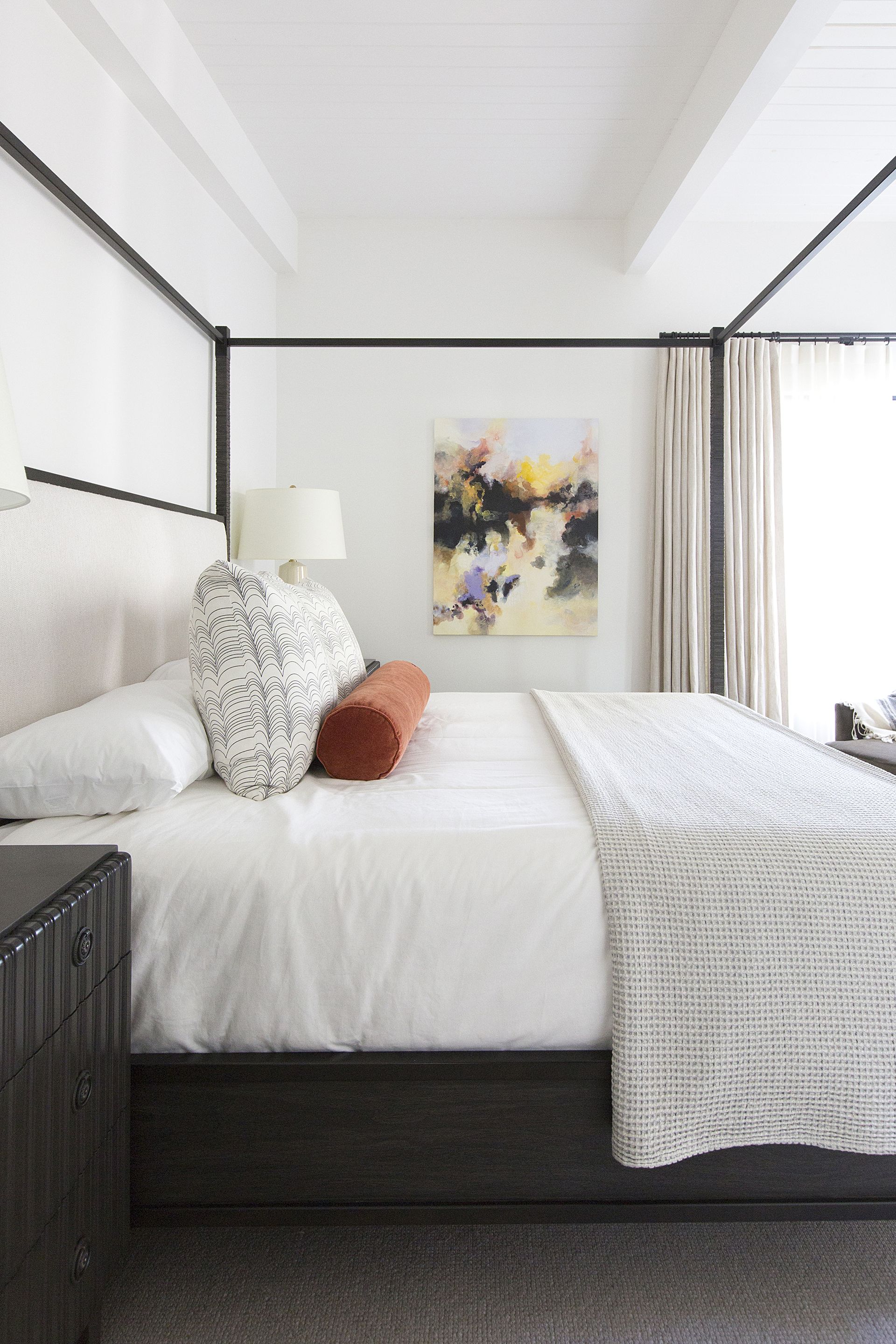 Part of the appeal of black bedroom furniture is that it can be paired with multiple accent colors, so when it comes to bedroom art ideas and finishing touches like cushions the options are endless. 
'Even with a simple, high-contrast black and white bedroom, I like to inject a little color,' says interior designer Melinda Mandell of this project. 'The backdrop of this Portola Valley, California bedroom is serene: crisp white bedding, an ebonized carved bed, and blackened nightstands. The colored accents, which give a punch of energy, are a vermilion mohair bolster pillow, and a commissioned painting by San Francisco Bay Area artist, Tina Vaughn (opens in new tab).'
7. Bring texture with ebonized wood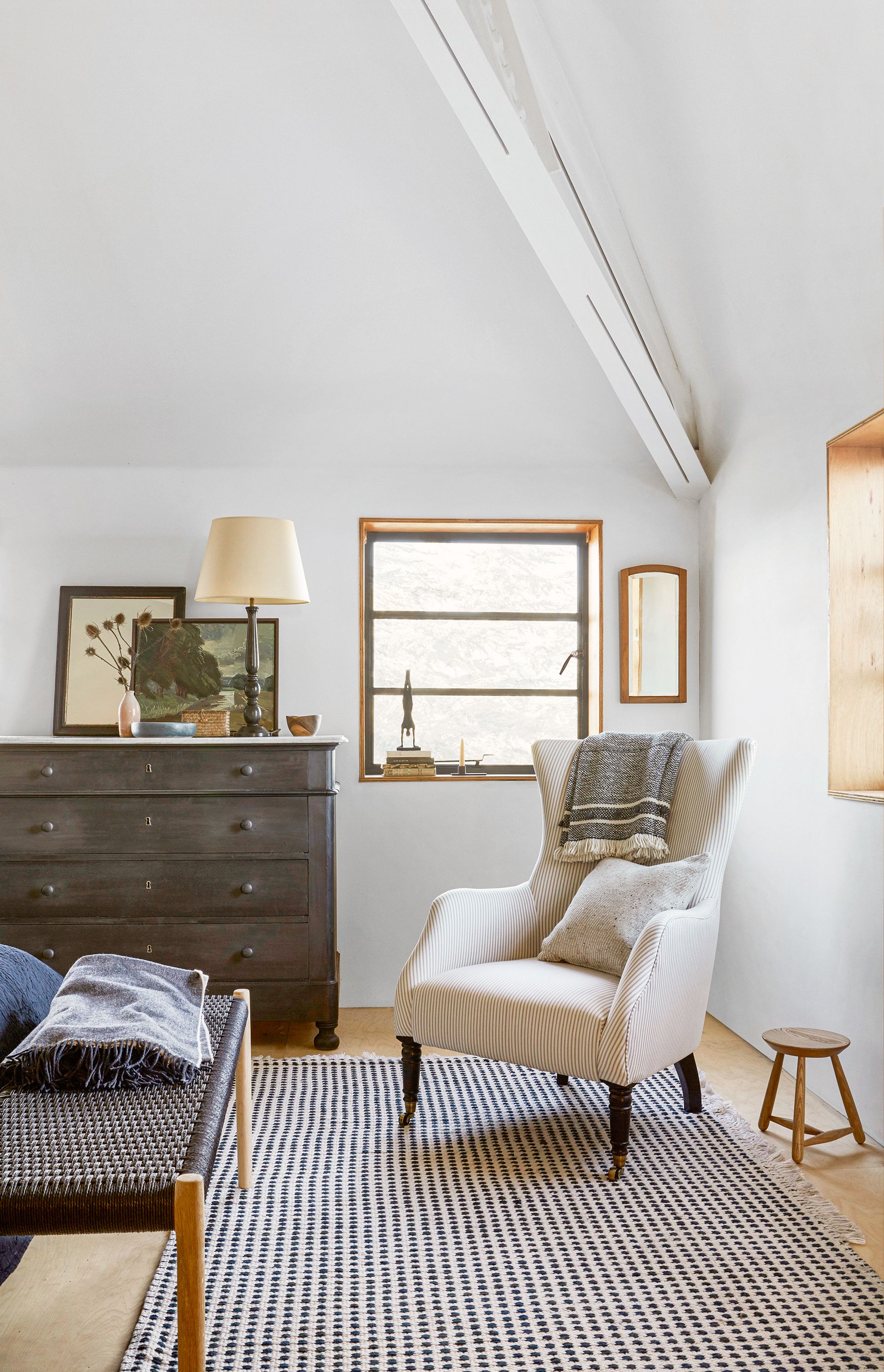 Decorating with natural materials like wood is a wonderful way to create soothing and sustainable sleepspaces plus the varied grain will bring beautiful texture, perfect for rustic bedroom ideas.
Ebonized furniture – made from light wood stained to look like darker wood – is everywhere right now and is becoming increasingly popular with those looking to create a chic contemporary look with an earthy, organic feel. 
'A lovely antique waxed ebonized chest of drawers adds character to this calm space, while a ticking stripe armchair, woven bench and chunky textiles soften the scheme,' says Emma Thomas, decorating editor of Homes & Gardens magazine.
8. Add a statement black headboard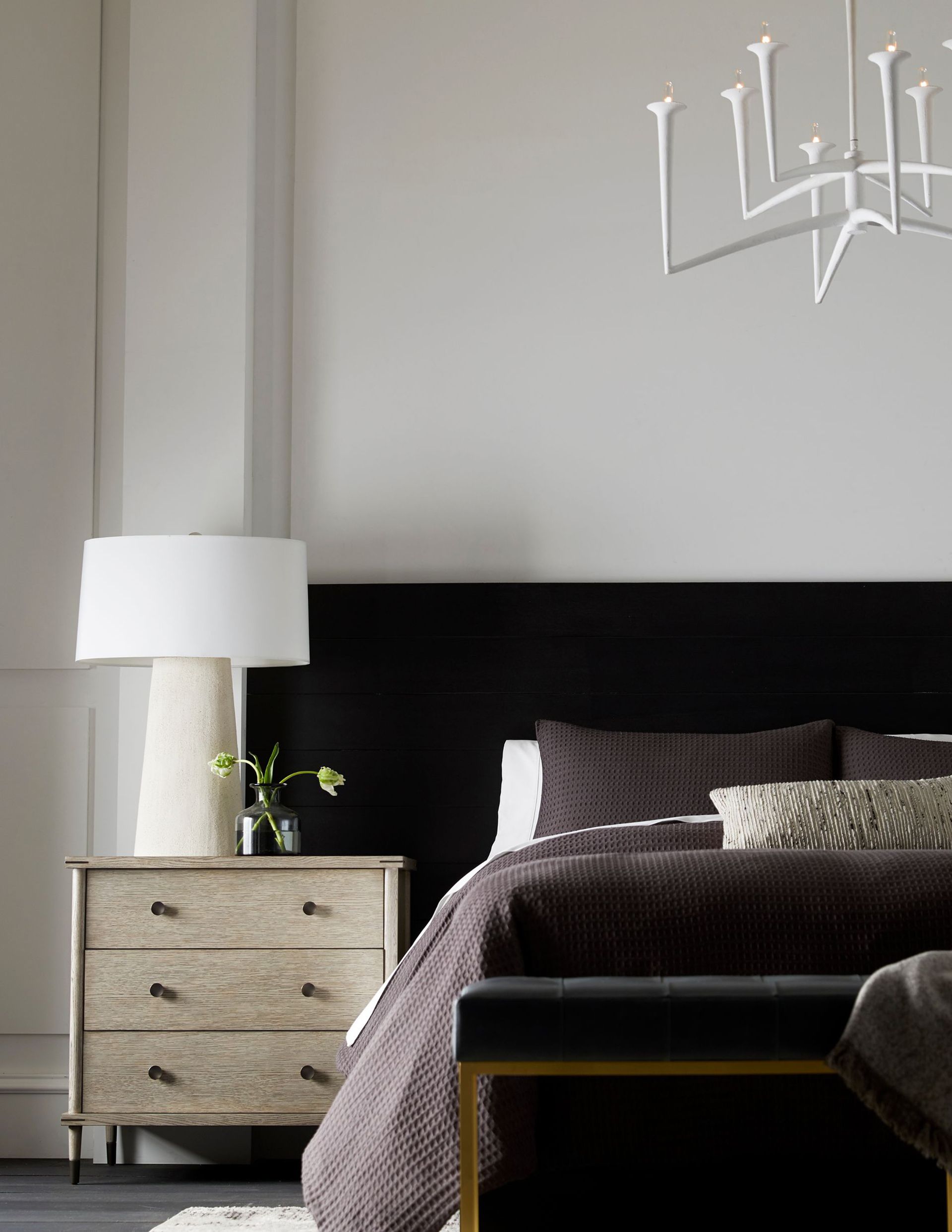 Elongated headboard ideas are a striking design feature which can bring a sleek, contemporary look to a bedroom and we're seeing them everywhere at the moment. 
In this space the striking black headboard is softened with drawers from Arteriors (opens in new tab) in a light oak finish and brass hardware, while the oversized, sculptural bedroom lighting ideas in white help balance the dominant shade.
9. Pair simple furniture with bold wallpapers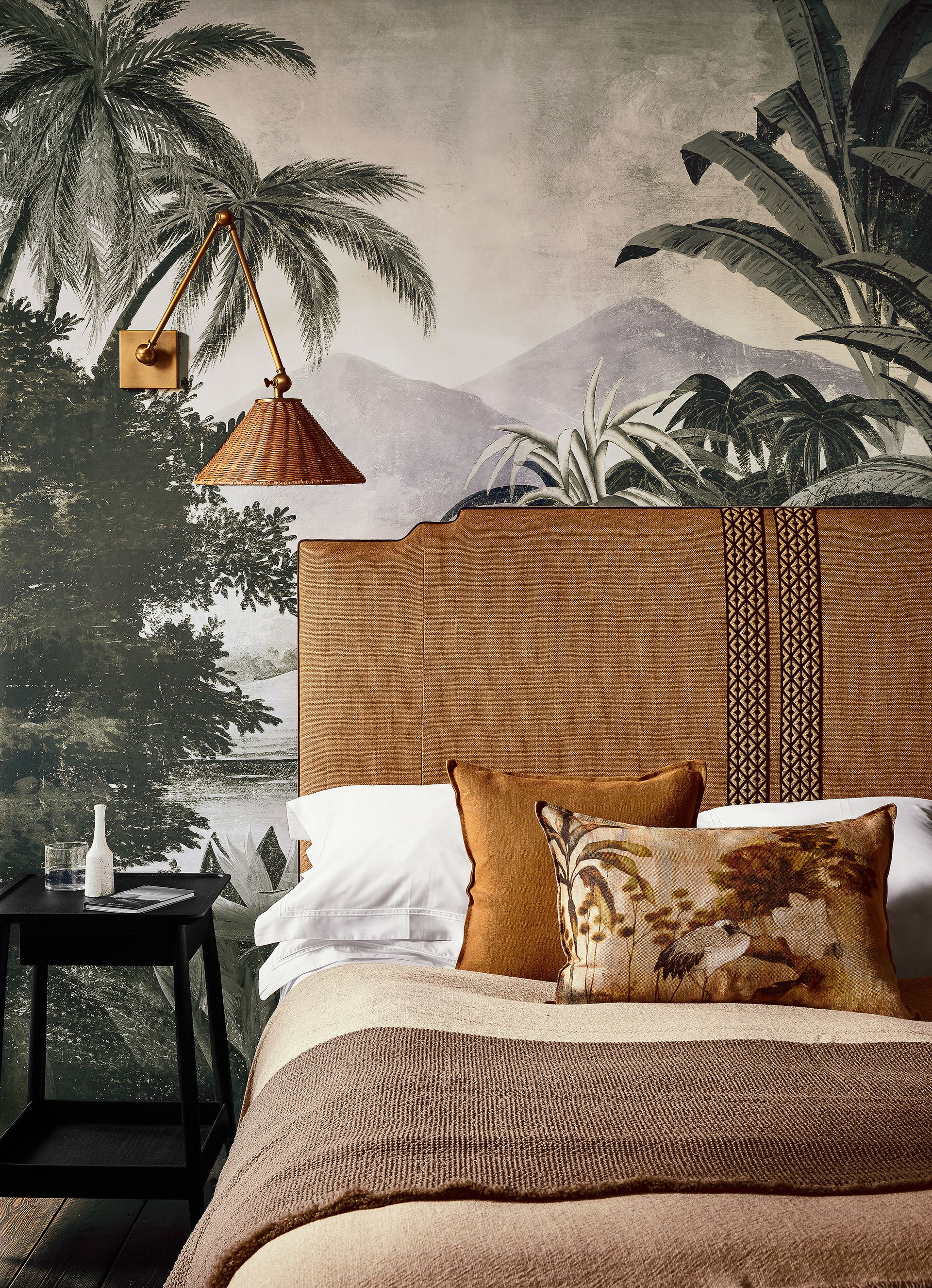 If you're thinking of introducing a statement bedroom wallpaper then opting for simple, pared-back bedroom furniture will help let the beautiful paper take the lead. 
Here, a Tana Grisaille wall mural idea, from Ananbois is paired with a Harlosh bedside table in black stained ash from Pinch (opens in new tab) which compliments the monochrome design, while the ochre linen headboard helps bring essential warmth and coziness to the space. 
10. Bring a traditional feel with antique furniture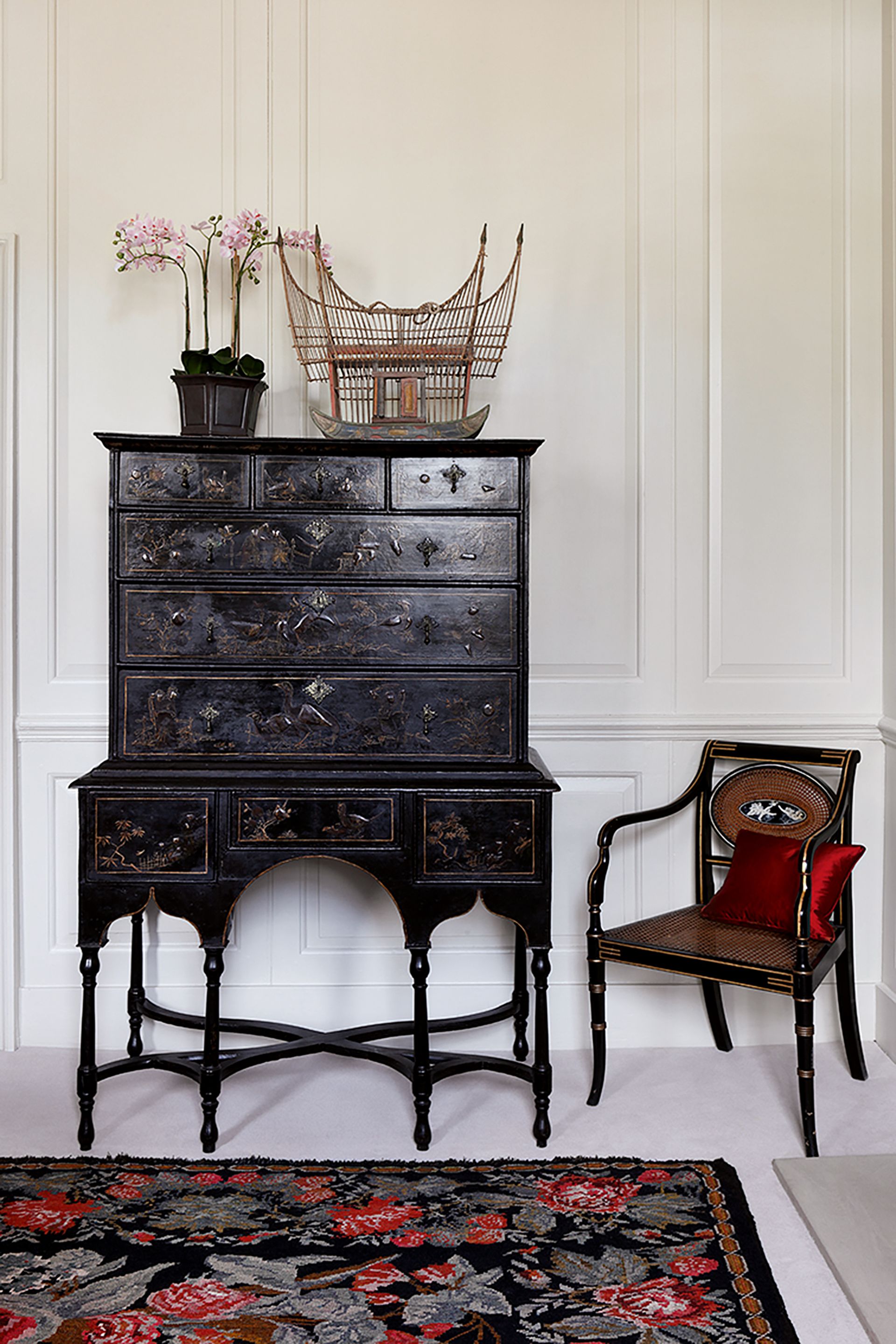 Decorating with antiques is a wonderful way to bring personality into a bedroom. If you have an empty corner, why not use it to display a statement cabinet or sideboard as demonstrated in this scheme by VSP interiors featuring a beautiful black lacquered chinoiserie cabinet?
'I find that antiques have a timeless quality that is difficult to achieve with most modern pieces, and the depth that they give to a scheme provide unparalleled comfort,' says Henriette von Stockhausen, founder of VSP Interiors (opens in new tab). When buying furniture, antique pieces can look great in contemporary properties, and vice versa, so don't be afraid to match the period of your home.
'My approach with clients is to encourage them to mix pieces from different countries, styles and periods, if they are comfortable doing so,' advises Henriette. 'The truth is that often the more contrived and forced an interior is, the less successful it is. The last thing anyone wants is to live in a museum.'
11. Make a feature of your black bedroom furniture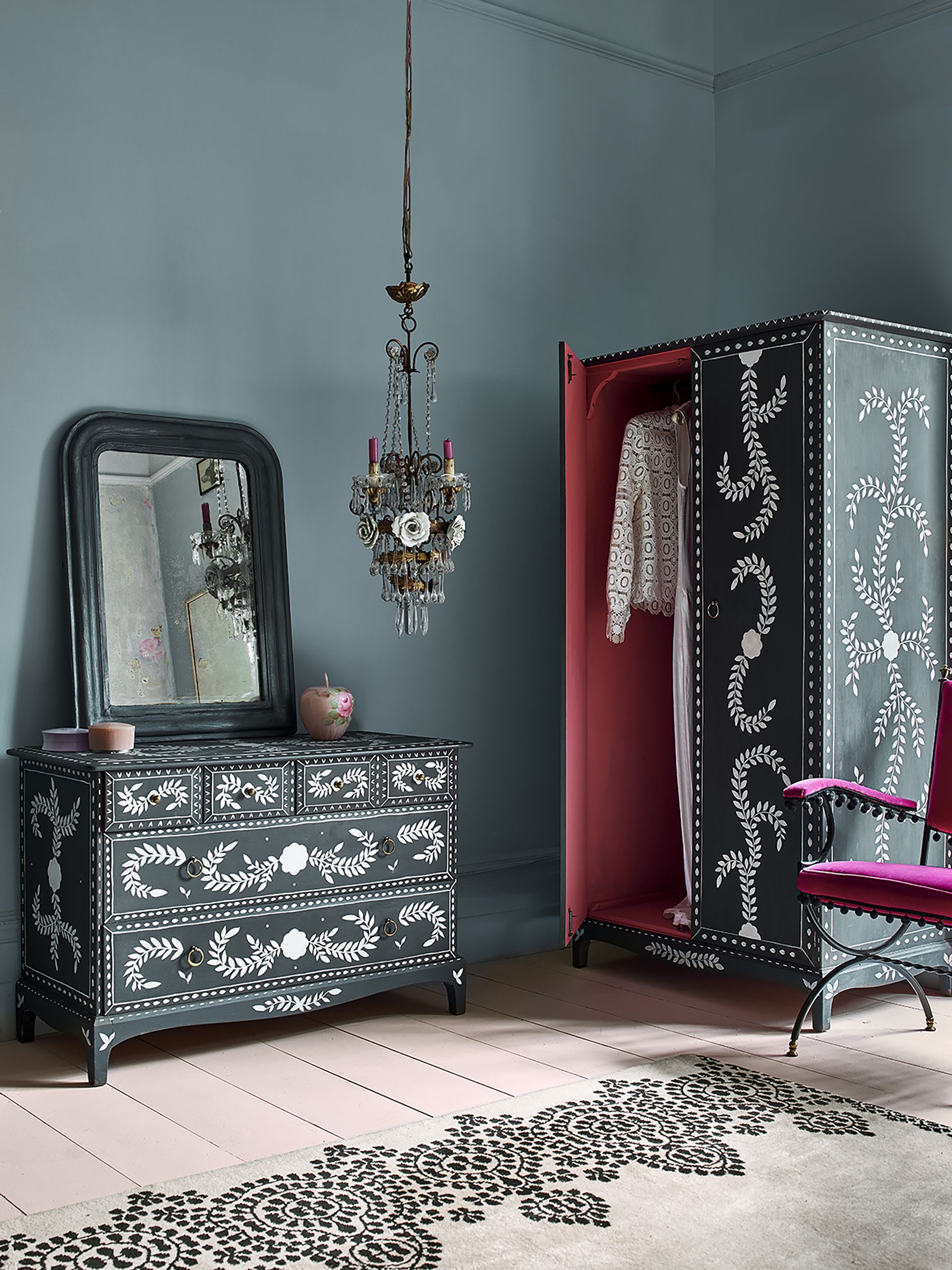 Rather than opt for plain black furniture designed to merge into the background, why not choose unique pieces that double as works of art?
Here a vintage chest of drawers and closet have been transformed with a lick of Annie Sloan's chalk paint and stencil detailing, then they have been finished with a coat of her pearlescent glaze to create beautifully decorative pieces that conjure the look of pearl-inlaid furniture at a fraction of the price. 
Is black furniture good for a bedroom?
Black bedroom furniture is a bold and versatile choice which can be used to create all sorts bedroom looks from luxurious and chic to laid-back and rustic.
Some find black daunting to decorate with as it is a powerful shade, but, being a pure pigment, black can actually be an easy color to incorporate into a bedroom scheme as it will pair with nearly any hue on the color wheel.
Black furniture a good way to bring structure and depth to a a monochrome bedroom with white, grey or beige walls, or you could try pairing it with a bolder color such as yellow for a more vibrant look. 
If you're thinking of black bedroom furniture, whether it's a statement headboard or staple chest of drawers, think about a choosing material that has texture to help bring interest to the scheme. 
How do you balance a black room?
To balance a black room think about introducing lighter tones such as whites and greys to help brighten the space. Adding in plenty of texture through fabrics and furnishings will help the space feel cozy and welcoming, this can be particularly important for living rooms and bedrooms.
Warm orange and red tones, as well as metallics such as brass and gold, can be a good way to soften a black room, while pastel hues like soft pink can also work well to bring a chic and feminine feel. 
Decorating with plants will instantly bring life to a black room, plus, a well-thought out lighting scheme that features plenty of ambient lighting is essential for creating a warm and inviting mood in a black bedroom.